Hi folks,
I've been doing some work on https://nime.org, specifically, we now have individual pages for each entry in the paper, music, and installations proceedings.
For example you can see: https://www.nime.org/proc/cook2001/index.html is just for Cook's " Principles for Designing Computer Music Controllers":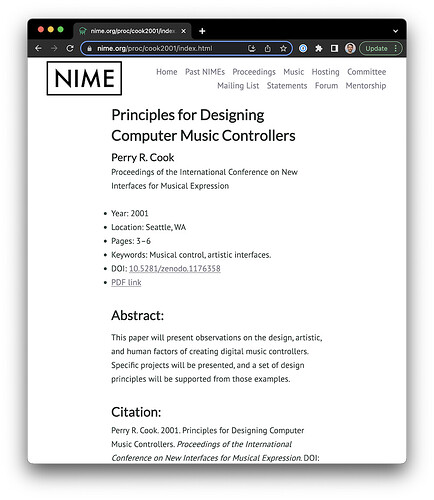 The backend change here has been a bit significant as the site is now generated from yaml files rather than bibtex. Some of the formatting has changed a bit and there's still a bit to do but it's mostly in the bibtex to yaml stage, not the yaml to website stage.
You can see the source YAML here (generated automatically).
This also opens the door to more interesting ways of displaying the proceedings, e.g., by author or having individual pages for each year, etc.
in any case, go have a look and as always, issues or help fixing things is welcome! See the github for places to contribute: https://github.com/NIME-conference/