Dear NIME community,
After many years of writing, I am happy to announce that the presales of my book have started now, and the book is being printed at the moment!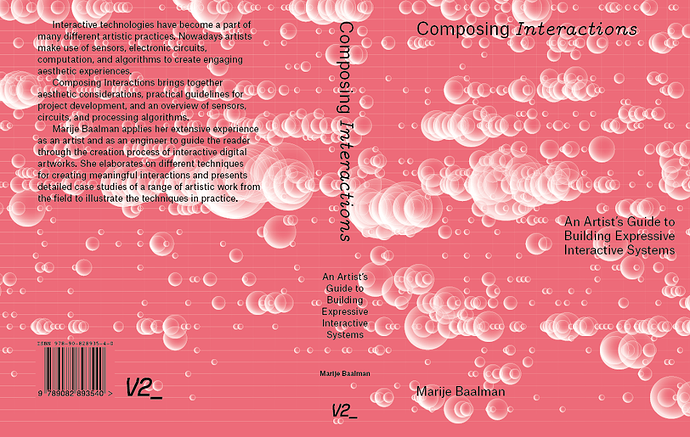 "Composing Interactions - An Artist's Guide to Building Expressive Interactive Systems".
Interactive technologies have become a part of many different artistic practices.
Nowadays artists make use of sensors, electronic circuits, computation, and
algorithms to create engaging aesthetic experiences.
Composing Interactions brings together aesthetic considerations, practical
guidelines for project development, and an overview of sensors, circuits, and
processing algorithms.
Marije Baalman applies her extensive experience as an artist and as an
engineer to guide the reader through the creation process of interactive digital
artworks. She elaborates on different techniques for creating meaningful
interactions and presents detailed case studies of a range of artistic work from the
field to illustrate the techniques in practice.
Writing the book has been an enormous effort, and the design duo Superposition have made beautiful diagrams to illustrate the book; Stukk Design have designed the book wonderfully.
So I'm confident that this book will not only be useful in content, but will also be a great book to look at and read through :).
All information on the book, including a table of contents, can be found at the website https://composinginteractions.art
The official publication date is planned to be June 1st, 2022, and plans for a book launch or release party in Rotterdam are being made for June 30th.
Right now you can get your copy of the book at the V2_ webshop for a discounted price of 40 euros: Composing Interactions – V2_ Webshop
Sincerely,
Marije Baalman